Brief information about Growing Together
Growing Together is a design research project that comprises collaboration between Lancaster University (ImaginationLancaster), The Good Things Collective, Bay Medical Group, Food Futures, Lancaster City Council, Tangentfield, and Morecambe Bay Curriculum, and it is funded by the Economic and Social Research Council (Impact Acceleration Account).
The project will run from August 2021 – January 2022. It will consist of 5 workshops and 1 sharing event. During these workshops, together we will combine gardening and creative design activities, and collective reflection activities to discovering how we feel about our wellbeing, and how micro-gardening can help us improve our state of wellbeing. Workshops will be adjusted to the pandemic situation, ensuring the UK government and WHO recommendations on social distancing and hygiene guidance.
Why we are doing the research?
The Growing Together project aims to deepen our understanding of the relationship between micro-gardening, mental health, and well-being. We want to explore the current issues facing neighbourhoods with regards to wellbeing, particularly during the pandemic and post-pandemic. Looking to the future, we want to learn from community gardening initiatives, and be able to redesign our urban environments in a more inclusive way, where social cohesion, wellbeing and prosperity are drivers of change. The general benefits of micro-gardens are understood, Growing Together will provide both a stimulus for promoting mental and physical wellbeing and also help understand how this is changing in participants over time.
What is the aim?
Involving community members and micro-gardeners in Morecambe's West End, together we will develop a Wellbeing Barometer. The Wellbeing Barometer is just a name for an idea, of something that may help us to raise awareness of our wellbeing. We will explore together how we can co-design and make something that enables us in the micro-garden to indicate our stare of mental health, and through this, open up conversations. Talking about mental health issues is an important element in starting to address these issues. The collaborative nature of the co-design project means we cannot predetermine the precise shape or functions of the barometer. The idea, its shape, and its functionalities will be shaped by all of us involved in the workshops. Indeed, this is the main goal: to develop a wellbeing barometer all together, which can help us to include everyone's voices on issues close to your communities, and find ways to support each other's wellbeing while developing gardening skills and abilities.
Timeline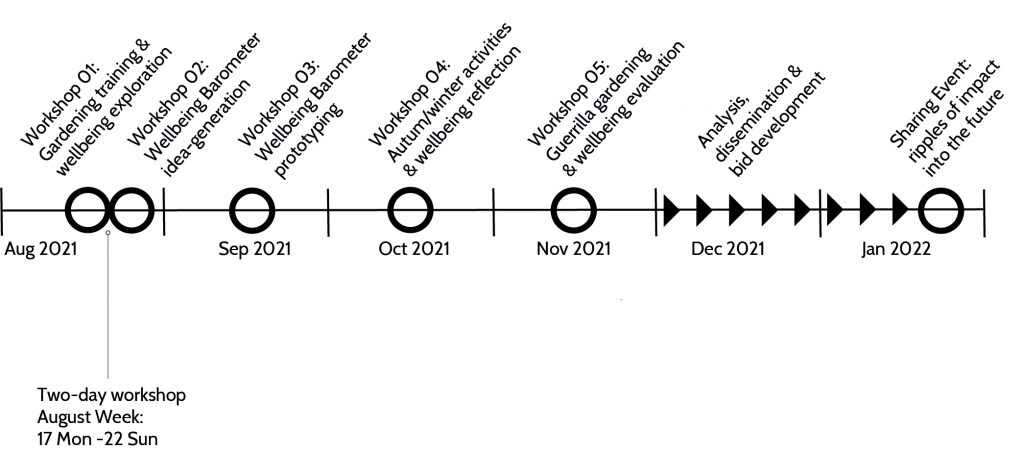 We are looking to launch the project with a 2-day workshop in the micro-garden plot (at the corner of Cavendish, West End Morecambe) in the week 17th – 22nd August 2021, what dates and times are best for you?
(Coffee and cake provided)
If you are interested in taking part or would like to find out more, please contact Mirian Calvo on email: m.calvo@lancaster.ac.uk.
More info here: