As part of our exciting interdisciplinary research pilot project Mapping Values, funded by the British Academy, we are launching two separate co-creation workshops held at the Latin American House (click to see the map), in Kilburn, in London, on Monday 4th of April and Tuesday 5th of April.
Please register in Eventbrite for one of the events by clicking on one of the following links:
Discovering Kilburn Workshop 1 – 4th April
Discovering Kilburn Workshop 2 – 5th April
During each workshop, we will go for a short walk around Kilburn area, share stories around different places, and reflect on public spaces where participants feel are welcoming, safe, and familiar. Each workshop will support the co-construction of new insights around how people relate to public spaces in Kilburn. We will explore all this together through a walk guided by the participant group. Over lunch, together we will plan the route and then we will walk sharing participant experiences and stories of Kilburn. After that, we will come back to Latin American House to reflect about the stories over a tea and cake. The activities will be designed to be engaging and informative, and we hope fun! Each workshop will take 3 hours, included a catered lunch.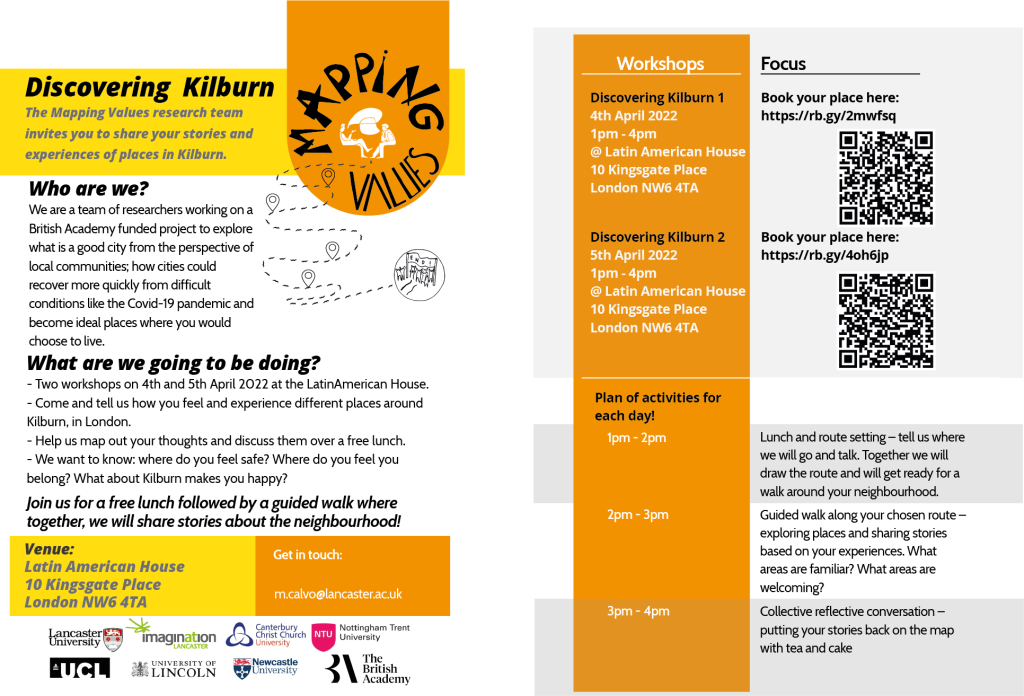 What is Mapping Values about?
Mapping Values: co-constructing understandings of the good city in pursuit of new models of urban governance is a research pilot project funded by the British Academy, and the Department for Business, Energy and Industrial Strategy, and framed around the theme of 'What is a good city?
The project explores how cities could become more "pandemic-ready" and how they might recover more quickly from difficult conditions like the Covid-19 pandemic, and our pilot focuses specifically on the area of Kilburn in London. We are interested in exploring with you how you use and relate to public spaces, and we intend to use this information to understand how locals view different spaces and places around the borough. The project is being run by Canterbury Christ Church University. The co-creation workshops will be run by Dr Mirian Calvo and Dr Elmé Vivier.
For more details about the project, please see our websites:
Mapping Values