With the COVID-19 global pandemic situation evolving daily, African countries are employing a range of approaches to minimise the impact of the pandemic on their population.
Charles Ebikeme, an organising Committee member of the DRS SIG in Global Health and Policy Officer in the Department of Health Policy at LSE is leading research on how African countries are currently communicating such public health actions in order to reduce spread of the coronavirus.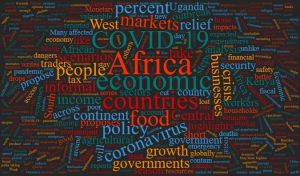 This research aims to draw any links between early communication at early stages of the outbreak, and the progression of the outbreak.
His research approach includes scanning African Ministries of Health online and social media feeds to discover what is communicated and when, alongside case numbers and other policy measures put in place by governments.
The ultimate aim is to develop a preliminary database of African national-level public health communications on COVID19.  Using the database, we hope to build a picture of the scale and timing of African governments' COVID-19 public health communications. Asking the question; have communications increased substantially over time—even in the absence of confirmed cases for some countries? Are communications targeted at specific groups (and taking into account vulnerable populations)? What channels are preferred for such risk communication?
It is the intention that this research will be of use to other practitioners and researchers in the field looking to understand the social dimensions of the outbreak and how government's use communications to mitigate public health impacts of the disease.
Follow this web blog for more information on the findings as the research continues.